Hey! I'm writing to you from beautiful, sunny Holland where I'm playing a tennis tournament. I'll be writing blog posts from various parts of the world-an athlete's life is often lived out of a suitcase.
My adventure with handbags began at the very start of my school studies. My first, was a wonderful backpack with a Mickey Mouse graphic, which I still fondly remember.
From early childhood I was also accompanied by a sports bag, because for training you had to pack the necessary things and I don't remember having too many free days :)
Training, school, training. That's what my days looked like, so I guess you can imagine I had to carry lots of things with me.
The functionality of UR bags is my original idea, resulting from experiences of living a fast paced life. My designs combine the best of both my worlds, elegantly transitioning between professional sport and any social environment. They will do the same for you!
Each function incorporated in the bag has it own history, while extremely simple I feel it's still interesting.
Each UR bag has a special compartment into which we can put shoes, box with food or any other accessory that we want to keep separate from the main partition. Why? - Often, I've needed to carry my shoes by hand because I did not want to have them mixed in with clean clothing items, documents or cosmetics.
Snap hook - as I've written in a previous blog post, most other bags have a long lanyard, but in my designs, they have a short one. why? - Previously, I used the long lanyard designs and when I looked for my keys, I needed to extract it through the entire contents of the bag - as I'm sure you will agree, this creates entanglement and mess, leading to unnecessary frustration and irritation. Because of this, the UR snap hook is designed with a short, elegant strap, so now I have quick, easy, hassle free access. This is also ideally suited to people who wear ID badges for work.
A separate laptop compartment. In our men's bags it comes standard in all models, while in our women's range you will find it in the Happy purse.  Of course, all our bags are spacious enough to comfortably fit a tablet or laptop of up to 15 inches.
There is a small zipper pocket in the middle of the bag in each model. I use it the most for storing jewelry.There are other pockets that are designed differently, according to the individual nature of the bag.
The lining of each bag was made so that it could be pulled out and washed by hand if necessary. A while back, I had the unfortunate experience of messing the juice in a new bag, which unfortunately, did not have that option. For this reason, I really wanted my first collection to have the washable lining:) the lining is made of a very durable yet luxurious material, important for a busy lifestyle.
The shoulder strap which I tested before for long time. The UR bag shoulder straps have been leather-lined on both sides. This additional leather layer is important because even with extra weight in the bag, it will sit comfortably on your shoulder.
Handles - our leather handles feel great in the hand, are additionally reinforced, supple and very strong. We have avoided using metal in the handles and when you hold one of our bags, I think you'll agree with our superior design.
Simply Elegant or elegant with sports character? Now you can have either option thanks to webbing straps, which can be removed any time and stored in the bag. I like to look elegant and feminine, but when I go to training I want to have a more sporty style, which is why I love attached straps.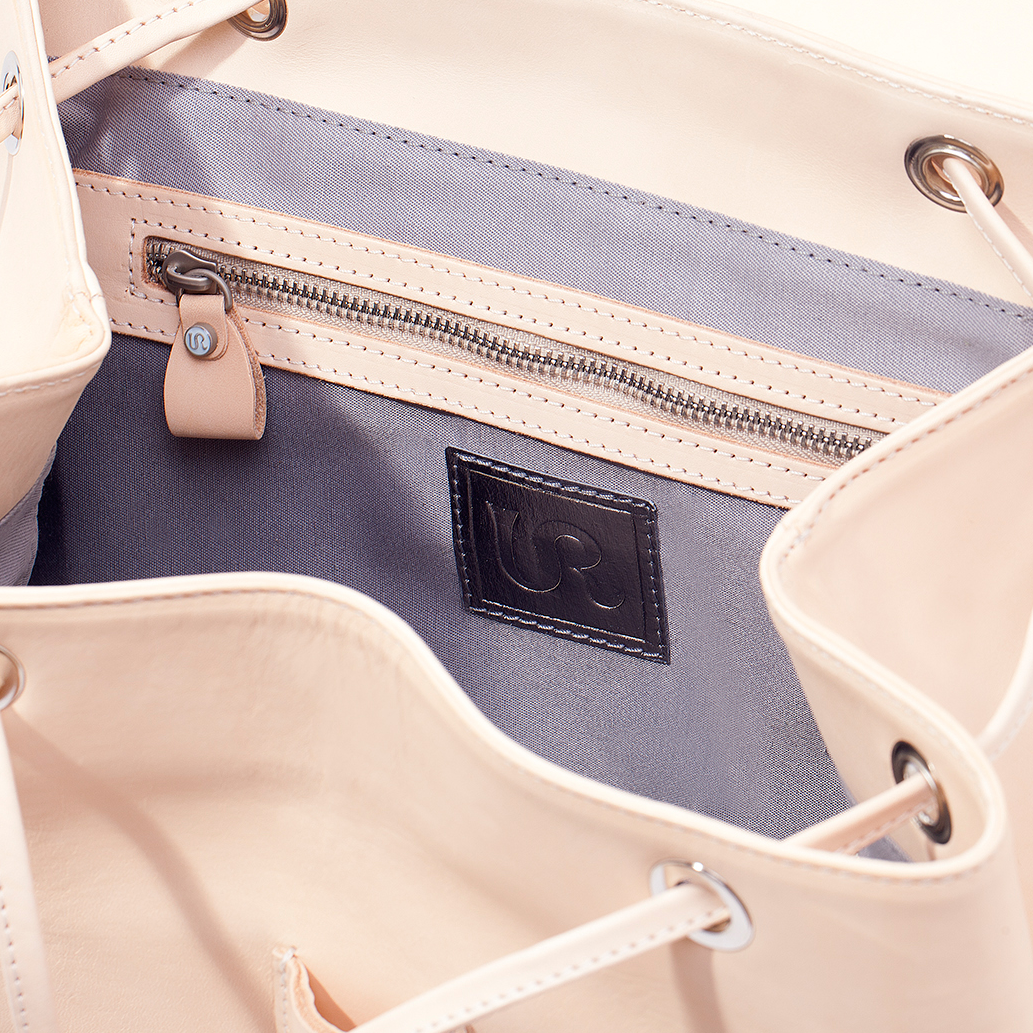 Leather - thickness is 1.8 mm, so that all pockets and zippers work well. I tested and trialled various options for over a year in order to find the ideal thickness of leather. I wanted a bag that would be comfortable and at the same time very durable and thanks to the fact that it has no stiff sides, it fits snuggly into the body.
I have my heart, passion and lots of courage into this project. The UR brand is something more than just a bag collection- it is a reflection of me, my passion and motivation to fulfill my dreams. I'm sure you will enjoy the company of one of my bags while you fulfil yours!
Sharing my personal journey has been a real pleasure. I'm a perfectionist in search of perfection both on court and throughout the development of my UR collection! That is the guarantee which is built into each bag. Subject? Why it is worth having a UR bag :) some examples will be really surprising!
Kisses and keep your fingers crossed!